The Best Ways to Choose a Gate
01/16/2017
Back To Blog
You don't have to be an expert to know that residential gates can be tailored precisely to the needs of the owner. This is certainly great news, but it can also make the choice a bit overwhelming for you. Here is our essential guidance to what's available. Use it to choose wisely.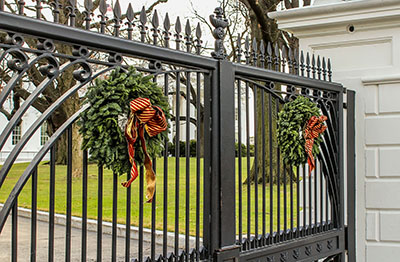 Swing or Sliding
A swing gate is the classic option for a residential property. It's elegant and attractive. Even the very tall security gates found on the entrances of grand mansions look beautiful. However, they have limitations which you have to consider. Firstly, the terrain where the unit will be should be flat. If the unit will be on a hill, you should consider a sliding model. Similarly, if there isn't enough room for a swing gate to open properly, you will have to go for the alternative. Sliding gates are often recommended for very wide driveways too. It is true that they are usually not as charming as their counterparts, yet they are solid and reliable. In recent years, some designers have started creating uniform models which are suitable for both swing and sliding operation.
The Make Matters
An iron gate is a true classic especially if it is a swing one. The problem with this material is that its surface will get oxidized when it is in contact with air and rainwater. That is why special protective treatment is required. The situation is similar with wooden gates. While wood is a strong and beautiful material, it has to be sealed or painted so that it doesn't get soaked. The protective coating must be reapplied annually. If water penetrates inside and the drying process isn't quick enough, decay may occur. While this kind of damage is usually fixable, the restoration of the unit will take considerable effort.
Automation Is Key
You can select from a wide variety of residential gate openers. The hydraulic ones offer the smoothest and most reliable performance. You can readily opt for a solar powered model if you want to maintain a green lifestyle. You can save a considerable amount of money on energy with it. The most important thing when selecting an opener is to ensure that the motor is powerful enough to operate your gate given its size and weight. It pays off to opt for a model from a reputable manufacturer with good reputation in the industry. Always check the warranty to ensure that your unit is properly covered in case there is a need for opener repair.